We asked ACT Board of Trustees member Goldie Silverman and her husband Don to share their ACT Theatre story. We hope you enjoy it!
I started out 1965 feeling sorry for myself. While I was reading national magazines that were making lots of noise about exciting contemporary plays opening in New York that were breaking the rules of traditional play-writing, like Oh Dad, Poor Dad, Mama's Hung You In the Closet and I'm feeling So Sad, or Tiny Alice, I knew that I would never get to see those new plays. I loved live theatre, but all Seattle had to offer then were productions of familiar works: there was Seattle Repertory Theatre, a leftover from the 1962 World's Fair, the same choices of well-known plays by the drama departments of local colleges and a couple of amateur dinner theatres. We were expecting our third child in April. I knew that we would never get to New York. There was no way I could see Oh, Dad.
Then I learned that Gregory Falls, a professor in the Drama Department of the University of Washington, was planning to start a new theatre company in Seattle in July, one that would show nothing but contemporary plays—A Contemporary Theatre—-and they were going to start the season with Oh, Dad! I immediately sent for tickets for the first night, not to miss anything. We left our three children with a babysitter for the very first time. That July night, we got there early. The windows were wide open and the floors still splintery sub flooring. During the course of the evening, a fire truck went by. I thought the play was wonderful. I don't remember it at all, except something about Mama tucking me in with so many blankets that I couldn't move.
The following season, ACT did Tiny Alice, starring Jean Burch Falls, co-founder with husband Greg Falls.
That's my ACT story. Tell us yours. Please send your story to ACT's Development Team so we can share it with the ACT family.
We followed up with Goldie and Don in this Q&A Session to learn more about their connection to ACT!
What do you miss most about attending ACT?
Don: Live performances, not Zoom, audience physically present.
Goldie: The magic of theatre. Watching ordinary people, many of whom I now know, change into somebody totally different.
What's your favorite play of all time at ACT?
Don: I can't answer, there are so many.
Goldie: The Last Class, the Jazzercise play, of course. No, excepting that one –The Legend of Georgia McBride.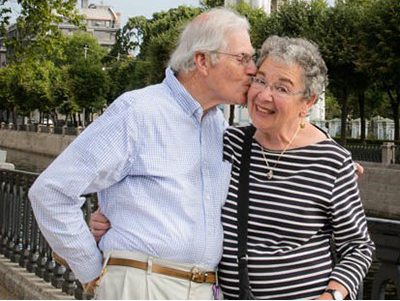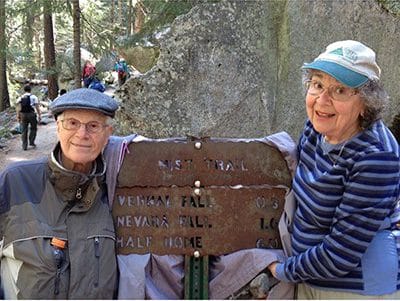 What recent ACT play has inspired the most conversation afterwards?
We both agree: People of the Book.
Did a play ever change your perspective on something? If yes, what play?
Goldie: Keely and Du, it was back in lower Queen Anne, about abortion, a pregnant woman captured by anti-abortionists who were going to force her to carry to term. It made me lots angrier at the anti-abortion movement. Also, Georgia McBride changed the way I look at drag queens.
Have you ever worked in a theatre? If yes, what was your job/role?
Don: I was in several high school plays, Our Hearts Were Young and Gay, with Inga Swenson and Susie Thompson (Buffet); Arsenic and Old Lace and The Man Who Came to Dinner.
Goldie: I was never in a play until The Last Class (I was an audience participant in the production).