Local artists.

Extraordinary stories.
ACT and Trial and Error Productions present ACTLocal, a series of live conversations and fully-produced play readings shining a spotlight on local playwrights and the development of new, contemporary work.
What's it like hang out with these playwrights? Fun, introspective, lively, spontaneous and informative. That's the ACTLocal Playwright Series. Join us.
Closed Captioning is available for all playwright series events.
Select past dates to view the recordings from each panel! More coming soon.
This event is in the past, but catch the recorded conversation below!
Keiko Green and Kirsten Potter aren't just founding members of ACT's Core Company of resident actors. They're playwrights, too. Meet these talented writer/performers in a one-on-one conversation that promises to be fun, introspective, lively, spontaneous and informative.
We caught up with both Keiko and Kirsten ahead of their discussion on Thursday night.
This event is in the past, but catch the recorded conversation below!
Katie Forgette has spent most of her professional career as an actor. She's also an outstanding playwright. Katie will give us the scoop on her new play, Vita Vista Village, a comedy that welcomes you into a break room in an upscale retirement home where everything goes wrong.
Katie's husband R. Hamilton Wright is no stranger to the Seattle stage. He's a Core Company member, playwright and director, too. Their last production together at ACT was Assisted Living, which Katie wrote and Bob directed.
The voice of Halo himself, Jeff Steitzer will moderate. Jeff is a voice and stage actor and director – he directed over 20 plays at ACT. He has a long history with us beginning in 1985 when he became resident director. Jeff became artistic director in 1988 for a six-year stint.
You can be assured of a terrific time full of insight and laughs. Don't miss it. Thursday, September 10 at noon.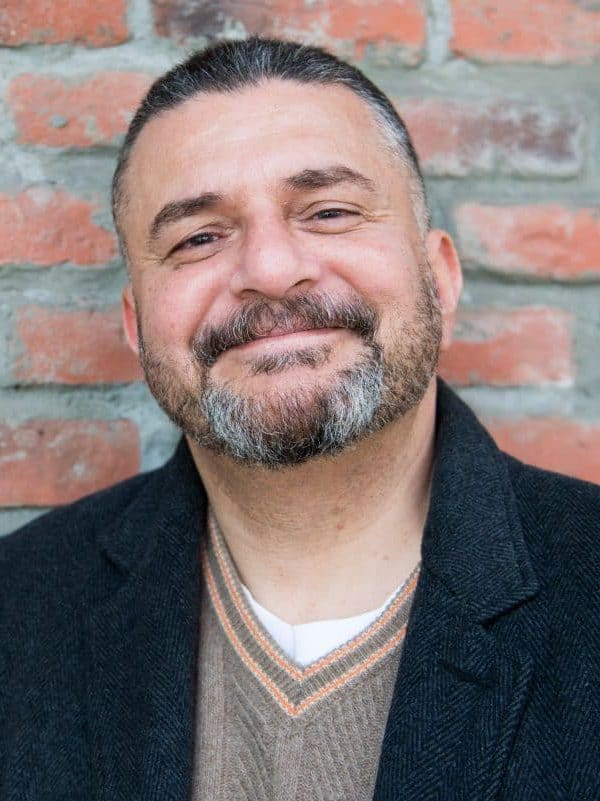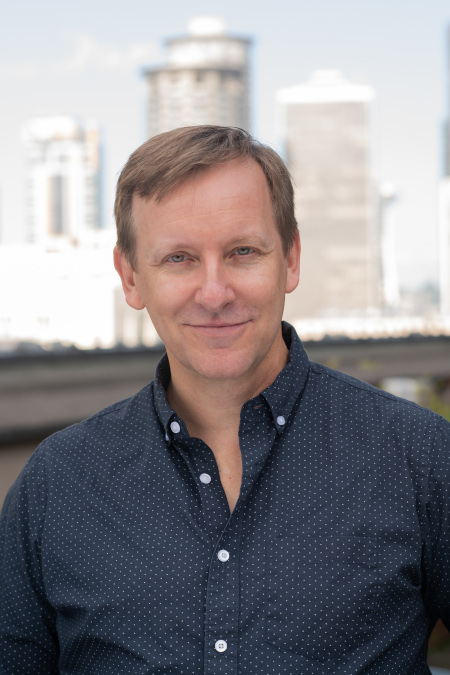 He's been called one of the most exciting playwrights in the country. Born in Egypt, raised in London and living in Seattle, award-winning playwright and ACT Core Company member Yussef El Guindi's works focus on themes of the immigrant experience, cultural and political climates and current issues facing Arab-Americans. His works on the ACT stage include Pilgrims Musa and Sheri in the New World (2011 – winner of the Steinberg/American Theater Critics Association's New Play Award in 2012; and the 2011 Gregory Award), Ramayana (2012), Threesome (2015) and People of the Book (2019). The highly anticipated play Hotter than Egypt — part of the ACTLocal series — is next up for this talented writer, Stranger Genius Award winner and ACT Core Company member. Get your seat – it's free
Hotter Than Egypt revolves around four characters: two American tourists and two Egyptian tour guides in Egypt. It explores a failing marriage, the uneven power dynamics between Western tourists and the locals showing them around; and the dreams triggered, and shared, when these four characters from different cultural backgrounds meet.
ACT artistic director John Langs catches up with Yussef for what promises to be a can't-miss conversation.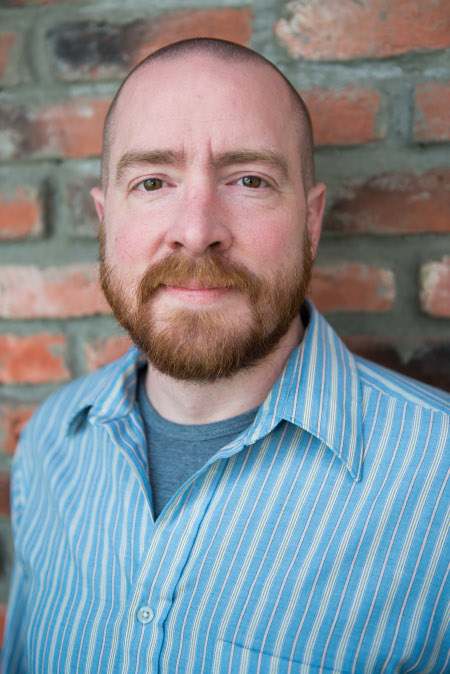 Noon
October 15
Free
We are pleased to welcome award-winning playwright Brendan Healy (Mangrove Park) and acclaimed local director Desdemona Chiang to the ACT virtual stage.
Brendan Healy's plays have been produced in Chicago, Louisville, Miami, Minneapolis, Seattle, California, Connecticut, Maine, Massachusetts, North Carolina, Oregon, and Pennsylvania. His latest work, Mangrove Park is one of eight plays that will be workshopped as part of the ACTLocal series. He is a four time finalist and one time recipient of the Heideman Award from Actors Theatre of Louisville. His play Suffering, Inc. was listed by The Seattle Times as one of the most memorable theatre events of the last decade. Brendan is also co-Managing Partner of a small theatre ensemble based in Seattle, Pony World Theatre.
Desdemona Chiang is co-founder and co-artistic director of Azeotrope in Seattle. Her directing credits include ACT Theatre, the Guthrie Theater, Alley Theatre, South Coast Repertory, Oregon Shakespeare Festival, Pittsburgh Public Theatre, Baltimore Center Stage, California Shakespeare Theater, Seattle Repertory Theatre, Playmakers Repertory Company, Studio Theatre, Long Wharf Theatre, Seattle Children's Theatre. She directs in a variety of genres, including Shakespeare, new plays and musicals.
Mangrove Park Synopsis
After Hurricane Maria destroyed her home and scattered her family, Maita fled to Florida. Now she lives in a trailer community named Mangrove Parkwith Will, her torpid yet volcanic boyfriend. Struggling to keep the seams of their daily lives from splitting wide open, they now face a new danger with warnings of another hurricane coming at them. They have no choice but to take shelter in their small trailer with Maita's friend, Valerie, and Will's father, Jude. If all four can survive the storm and being confined together, they'll have to pick up the pieces of their homes, lives, and dreams.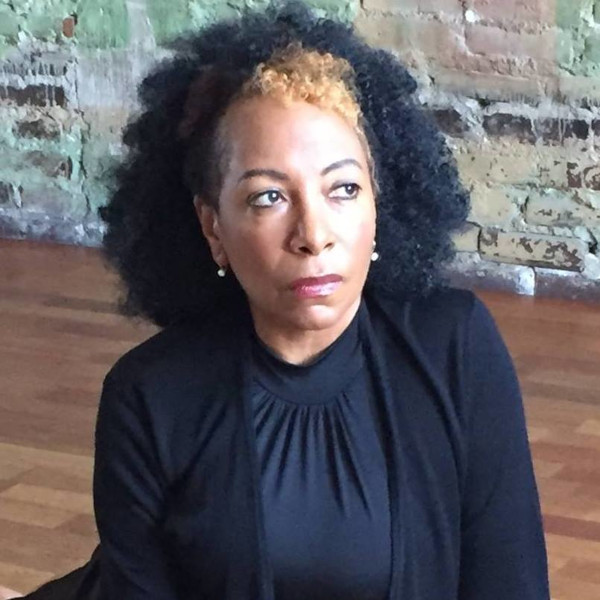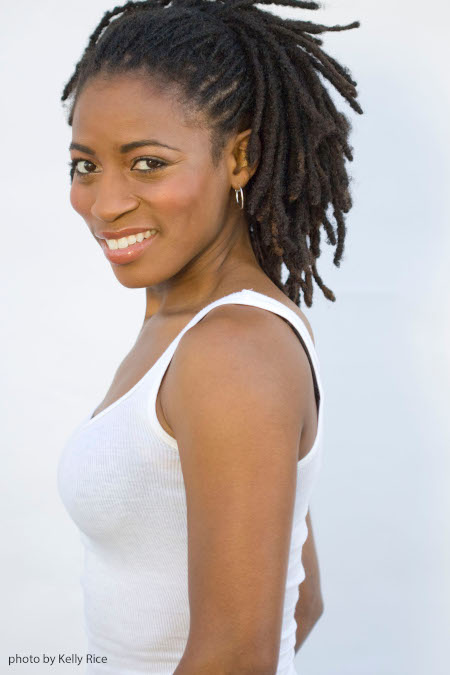 7 p.m.
October 29
Free (donations gratefully accepted)
Join Amontaine Aurore as she takes us inside her new work The Ever Expanding Moment in this conversation with special guest  moderator Ameenah Kaplan (director of The Royale on ACT's Mainstage, 2016).
Amontaine and Ameenah will be joined in this recorded conversation by guest actors Karen Malina White (Chicago Hope, The Cosby Show) and Lorenz Arnell reading a scene (a pivotal scene between mother and son) from the play.  A live Q&A with Amontaine will follow the presentation.
Amontaine's plays have been produced locally, nationally and abroad.
Ameenah Kaplan is the resident director of A Lion King on Broadway and has had roles in numerous film and TV productions. She directed The Royale for ACT's Mainstage in 2016.
The Ever Expanding Moment Synopsis
Victor Lane has just died. If that realization hasn't shocked him enough, the first person he meets on the Other Side is Jamahl King, the young Black man he shot and killed last year while on police duty. For his part, Jamahl has no clue as to how or why he's suddenly in a room in the Afterlife with the cop that snuffed out his young life. It soon becomes clear that they are locked up together in a place with no discernible escape route. Then… the movie of their lives on earth begins to play.
About Amontaine:
Amontaine Aurore is a writer, actor, producer, director, performance artist, and playwright. Amontaine was creatively expressing herself soon after exiting the womb, and she is grateful for an evolving artistic path in which to explore her mind and heart, create worlds, and investigate the complexities of human nature. Her plays have been presented on stages in Seattle, New York, and abroad, including the United Solo Theatre Festival, the New York Fringe, the Edinburgh Fringe, the 59E59 Theatre, 12th Avenue Arts, and On the Boards, among others. Her solo play, Free Desiree was named by Indie Theater Now as one of the Best New Plays of the New York Fringe Festival. Her play Don't Call it a Riot, which explores Seattle activism from the Black Panther Party to the WTO protests, was a finalist in the 2017 Bay Area Playwrights' Festival, and had its world premiere in Seattle in 2018. Amontaine was named a finalist for the 2019 Emerald Prize, a biennial playwriting award presented by Seattle Public Theater. In addition to making Seattle's Pioneer Square her home, she has also lived and studied acting, voice and dance in Los Angeles, and studied abroad in Italy, Egypt and Bali. She is the recipient of several artist awards from Artist Trust, Seattle Office of Arts and Culture, 4Culture, and the Puffin Foundation, and has twice been a writer-in-residence at the Hedgebrook Writers' Retreat on Whidbey Island. 
This event has passed.
In a double-wide trailer in Texas, the oldest daughter of a tight knit-Mexican family is caught in the role of care-taker for everyone.  Will she take a step towards freedom?
Marisela Treviño Orta's new play, Shoe, examines the family dynamics and gender roles within a dysfunctional Mexican American family led by a matriarch who manipulates her grown children to remain under her roof as a way to deal with the enormous grief created when her spouse abandoned her and her children twelve years ago.
Drawing inspiration from the nursery rhyme "There Was an Old Woman Who Lived in a Shoe," the play creates an atmosphere of confinement and constriction as the protagonist yearns for a life outside of the family's double-wide trailer in Texas.
The full cast of Shoe performed a live reading on November 15. Did you miss the performance or perhaps you'd like to see it again? You can now stream the reading on-demand through January 22.
Actors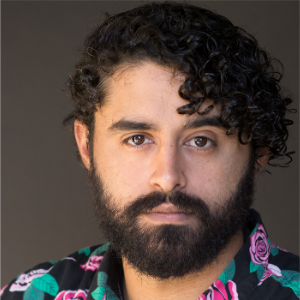 Christian Zumbado is a graduate of Pacific Conservatory of the Performing Arts and is a current senior at Cornish College of the Arts. Some roles include Macbeth, The Boatman in Shakepeare in Love, Larry in Company, Rick Coca in Sonnets for an Old Century by Jose Rivera. Christian is a proud member of the YHT cohort, bringing stories to life that need to be shared with the community.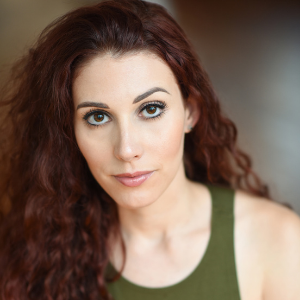 Elyse Fisher is a Cuban American actress originally from Miami, Florida. After her Undergraduate degree, she moved to New York City, did some Acting, and became a Laser Esthetician. After her Masters degree, she moved to Chicago to work with NV Talent doing voiceover, television, and theater. Some of her favorite roles include Lady Croom in Arcadia, Georgie in Spike Heels, and Greer in Seven Homeless Mammoths Wander New England. Currently, she is residing in Philadelphia hoping to focus on theater. Aside from theater Elyse enjoys nature, food, music, dogs, and basketball.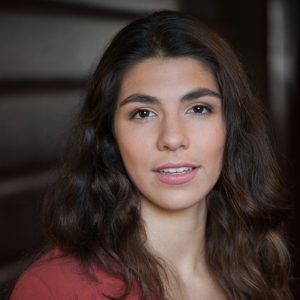 Sofía Raquel Sánchez, They/Them, is a New York based actor, playwright, and teaching artist with a BFA from Cornish College of the Arts. They believe in developing and fostering work that raises up multigenerational voices from marginalized communities. Their work includes: Copious Love's I Think I Love You- (playwright,) Village KIDSTAGE's Out of Bounds (playwriting mentor,) Washington Ensemble Theater's Dance Nation (Amina,) Copious Love's Querida Familia: A Fundraiser for El Paso (producer,) The Scratch's New Work Series' Rushing (Alex,) Seattle Shakespeare Company's Romeo and Juliet (Romeo,) Seattle Children's Theater's Ghosted (Kayla & teaching artist,) and Strawberry Theater Workshops' Lydia (Ceci.)
Anabel Hovig is a Seattle area actor and has worked with various companies in the Seattle area such as Forward Flux, Parley, Freehold Theatre, Ghost light Theatrics, Eclectic Theatre and more. She was last seen at Parley's staged reading of Familiar Kill as Ruby and Theatre Battery's Production of #Alma (or no wall) in the role of Alma. Anabel studied Theatre and education at the University of Hartford in Connecticut. After graduating, she joined The Hartford Theatre ensemble before moving to India and later Seattle. She is honored to be working with Ese Teatro and Act lab series.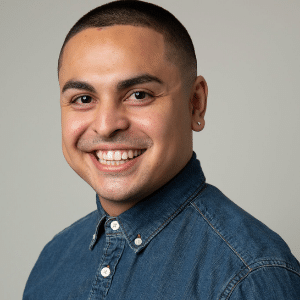 Myles Romo is a California native. In 2018, he moved to Seattle to attend Cornish College of the Arts. In 2020, he earned his BFA as an actor, writer, and director. He has played various roles such as Romeo (Romeo and Juliet), Sonny (In The Heights), and much more. Be on the lookout for his new play "O Street" coming soon. Young Hot Thespian is The Regime, The Takeover is Now. 
Playwright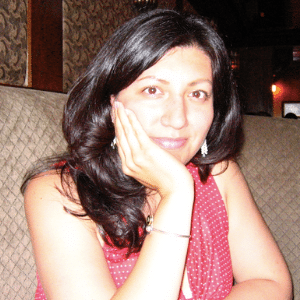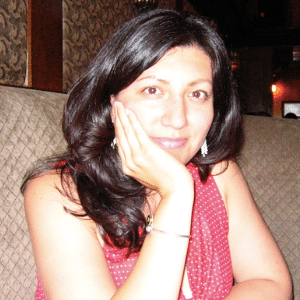 Marisela Treviño Orta is a graduate of the Iowa Playwrights Workshop, a Core Writer at the Playwrights' Center, and under commission by Audible. Her awards include the 2006 Chicano/Latino Literary Prize in Drama, 2009 Pen Center USA Literary Award in Drama, 2013 National Latino Playwriting Award, and 2019 Kendeda Finalist. Her plays have been presented at Arizona Theatre Company, Brava Theater, Halcyon Theatre, Kitchen Dog Theater, Milagro, Nashville Children's Theatre, New Jersey Repertory Company, Oregon Shakespeare Festival, and Shotgun Players. Her produced plays include A Place to Belong, Braided Sorrow, Ghost Limb, Heart Shaped Nebula, Somewhere, Return to Sender, The River Bride, Wolf at the Door, and Woman on Fire.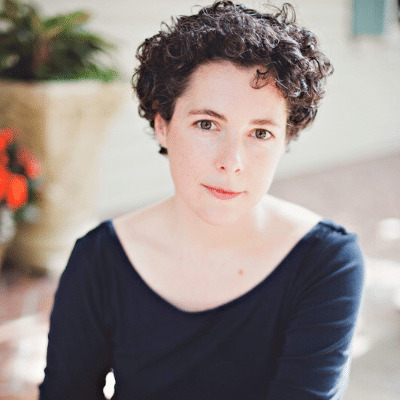 Holly Arsenault is a Montreal-born, Seattle-based playwright with a number of award-winning plays to her credit. She joins us on December 17 to discuss her new play, Untitled Christmas Play, which is being workshopped at ACT in December as part of ACTLocal. Joining Holly will be director, producer and educator Sherrine Azab, Co-Director of A Host of People.
Learn more about Holly and Sherrine's work, their collaboration, how they met (did you know it was at ACT?) and much more.
Thursday, December 17 at 7 p.m.
Holly Arsenault's Untitled Christmas Play is an alternative holiday show. It's a love story between a Christian woman who compulsively steals the baby Jesus from a church's nativity display, and a Muslim security guard who monitors the church's security camera.
From Holly:
This idea was sparked by a news story I read last Christmas about an epidemic of baby Jesus thefts around Christmastime. I imagine an essentially lighthearted story with a lovable, diverse cast of characters that goes to some dark places and invites us to think about things like loneliness and isolation and longing and overcoming cultural barriers and also this country's bizarre relationship with Christmas.
_______
Holly Arsenault
writes plays. Some of them are funny with sad parts. Some of them are sad with funny parts. Her plays, which have been called "almost clinically observant," and "scary af but also charming," often talk about families—biological, chosen, and circumstantial—and the complicated women who hold them together.
Holly was born in Montréal, Quebec and has lived in Seattle, Washington since 1997.
Her play Court was one of four winners selected from a national pool for the 2020 Ivoryton Playhouse Women Playwrights Initiative. Her play Undo is the recipient of a Theatre Puget Sound Gregory Award for Outstanding New Play and a Seattle Theater Writers Award for Excellence in Local Playwriting. Undo was nominated for the American Theatre Critics Association New Play Awards, and was a semi-finalist for the Princess Grace Award.
This year, Holly's work will be read (through the magic of Zoom) at Seattle Rep, Seattle Public Theatre, and ACT Theatre. A production of The Great Inconvenience in Los Angeles, shelved due to COVID, will hopefully happen at some point in the future.
Holly holds a BA from the University of Washington School of Drama. She is a member of the Dramatists Guild of America and an alum of the Seattle Rep Writers Group.
Sherrine Azab is the Co-Director of A Host of People. In addition to directing she's also a producer, performance curator, and educator. She holds a BFA from Cornish College of the Arts in Seattle where she founded the critically acclaimed company Strike Anywhere Productions before moving to New York City. There she served as the Associate Producer for The Foundry Theatre (NYC) during their 2011 and 2012 seasons and is a proud Associated Artist with Target Margin Theater (NYC). She holds a postgraduate certificate from the Institute for Curatorial Practice in Performance at Wesleyan University and was a member of the 2008 Lincoln Center Director's Lab. Azab is currently the Engagement Manager for the Network of Ensemble Theaters.
She was a 2017-18 UMS Artist in Residence and recently worked with the Arab American National Museum and NYC-based Ping Chong & Co on a project about the Arab American experience in Dearborn, MI which premiered in May 2018.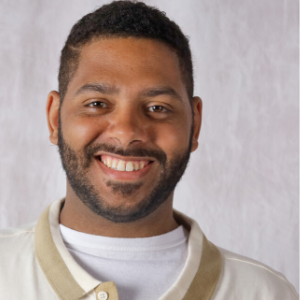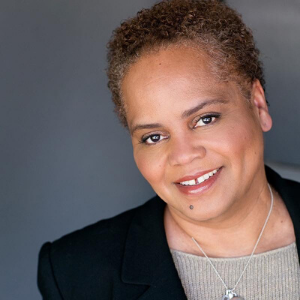 Thursday, January 28, 2021
7pm
Free
Register Now
Join us on January 28 for our next ACTLocal Playwright Series panel as playwright Andrew Lee Creech and director Valerie Curtis-Newton discuss Andrew's latest play, Last Drive to Dodge and much more in this one-on-one conversation. Registration is free.
Last Drive to Dodge Synopsis:
1884. Tensions run high as the Bailey Family Ranch prepares for the annual cattle drive. When a figure from the past returns, and the cowboys go on strike, life on the open range threatens to change forever. Set at the tail end of the Cowboy Golden Age, Last Drive to Dodge examines race, love, and legacy in a time when everyone is scrambling for their piece of the American Dream.
Meet the Playwright
Andrew Lee Creech is a Seattle-based writer, performer, and content creator. His full-length plays include: Last Drive to Dodge (recently workshopped through ACTLocal), Riverwood (recently presented as a Zoom reading by Seattle Public Theater), and more. His full-length musical JOURNEY WEST! The Legend of Lewis & Clark was produced by Copious Love Productions in 2018, and received a People's Choice nomination at the Gregory Awards that same year. As a content creator, he has amassed over 70,000 followers on the social media platform, TikTok, where he is known for his hit series' Breaking News!, Black English Explained, and Riddle Me This. Andrew holds a BFA in Acting with an emphasis on Playwriting and Directing from Cornish College of the Arts. He is a member of the Dramatists' Guild of America and an alum of Parley. A Playwrights' Group.
Meet the Director
Valerie Curtis-Newton
is the Head of Directing and a professor of Acting and Directing at the University of Washington School of Drama, She also serves as the Artistic Director for
The Hansberry Project
, a professional African American theatre lab focusing on the work of black playwrights. She previously served as Artistic Director of both Seattle's Ethnic Cultural Theatre and Hartford's Performing Ensemble, Inc. and worked with Actors' Theatre of Louisville, Alabama Shakespeare Festival, Seattle Children's Theatre, The Mark Taper Forum, A Contemporary Theatre, New York Theatre Workshop, Tacoma Actors' Guild, Southern Repertory Theatre, Capitol Repertory Theatre and Northwest Asian American Theatre, among others.
Valerie has received numerous awards, including:
2020: Seattle Times Most Influential People of the Last Decade; 2019: Theatre Puget Sound – Gregory Falls Award for Sustained Achievement; 2016: Seattle Times Footlight Award (Best in Show) 2014: Stranger Genius Awards in Performance and the Crosscut Courage Award for Culture; 2012: Gypsy Rose Lee Award for Excellence in Direction; 2001: Stage Directors and Choreographers Foundation's (SDCF) Gielgud Directing Fellowship 1997-1999: NEA/TCG Career Development Fellowship for Directors
Presented in partnership with