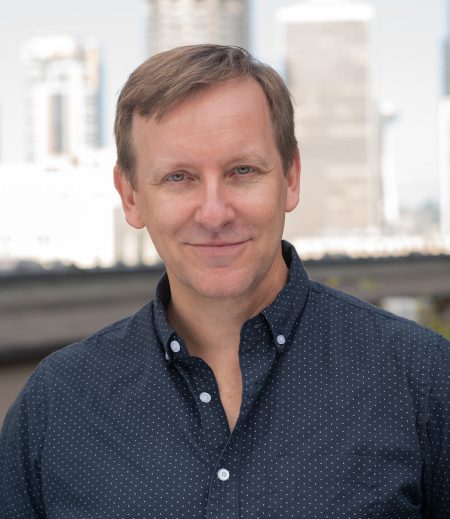 John Langs
John Langs has served as Artistic Director since 2016. He joined ACT in 2013 as Associate Artistic Director. Langs' 16–year freelance career afforded him the opportunity to work with many prestigious theatre companies across the country. He has directed productions at Playwrights Horizons NY, Ensemble Studio Theater NY, Milwaukee Repertory Theatre, Lookingglass Theater Company in Chicago, Circle X in Los Angeles, The Resident Ensemble, New Century Theatre Company, Washington Ensemble Theatre, and Seattle Shakespeare Company. Langs received his directing degree from the University of North Carolina School of the Arts. Some of his favorite directing credits include The Shaggs Philosophy of the World (Los Angeles Drama Critic Circle Award for Best Original Musical), and Brothers Karamazov (seven LADCC Awards including Best Production of the year and Best Direction) and directing Kurt Beattie in King Lear. Langs received the first annual Seattle Gregory Award honoring excellence in direction for The Adding Machine. As a dedicated fan of original work, Langs has shepherded over a dozen projects to their premier production.
Anita Shah
Anita Shah is an accomplished arts and entertainment executive with 25+ years of experience in the arts, entertainment, and events industry. Anita hails from New York City, where she worked with organizations such as Lincoln Center, Cedar Lake Contemporary Ballet, Good Morning America, New York Live Arts, Blue Man Group, and numerous Broadway productions, such as the Tony Award-winning productions Once  and Clybourne Park. Anita has had a long career in the theater, beginning as a technician and designer, then transitioning into production management, venue management, producing, and executive organizational leadership. Anita has stewarded productions across the nation and internationally. This unique perspective of insight at numerous areas of our industry informs her work in creating more supportive and equitable work spaces in the pursuit of making transformative theatrical experiences. Anita is a strong advocate of the arts with a proven track record of accomplishments, including the ability to generate and implement vision and strategy on all levels of an organization while prioritizing team leadership. Anita received her BFA from Emerson College.
Cynthia Huffman – Chair
Erika Nesholm – Secretary
Gary Houlahan – Treasurer
Bill Kuhn
John Langs*
Brian Markham
Al Roundtree
Anita Shah*
Ben Spicer
Hana Tadesse
Bob Wright*
*Ex-Officio

If you would like to learn more about Board service or to express your interest in being considered for a position, please contact us at info@acttheatre.org. 
Sheena Aebig
Kermit Anderson
Joan Dee Barokas
Kurt Beattie*
Dr. Eric Bennett
Laurie Besteman
Jeannie M. Falls
John H. Faris
Charles Fitzgerald
Brad Fowler
Katharyn Alvord Gerlich
Carolyn H. Grinstein
Sara Comings Hoppin
C. David Hughbanks
Kate Janeway
Jonathan D. Klein
Diane Lind
Jane W. Lyons
Nadine H. Murray
Douglas E. Norberg
Dr. George Ojemann
Kristin G. Olson
Eric Pettigrew
Pamela Powers
Katherine L. Raff
Suzanne Ragen
Catherine Roach
Jo Anne Rosen
Faye Sarkowsky
Carlo Scandiuzzi
Susan Trapnell
Brian Turner
George V. Willoughby
Richard C. Clotfelter
Esther Schoenfeld
Emeritus Council
*Artistic Director Emeritus
Kermit Anderson
President
Brad Fowler
Vice President
Gary Houlahan
Treasurer
Jim Minorchio
Secretary
Trevor Cobb
Cynthia Huffman
Rachel McCracken
Sheila Smith